Summer Food Boards (Plus WIN One of Your Own!)

by
SheSpeaksTeam
is this the date @ED : BlogVO [categoryId=70164, blogId=145890, blogTitle=Summer Food Boards (Plus WIN One of Your Own!) , publishingDate=August 03, 2021 12:00 AM, maxResponses=null, noOfComments=null, fileId=41234, blogClosingDate=null, blogCommentClosed=null, blogCategoryId=70164, queryId=0, blogCategoryIdIndex=0, sharedCategoriesList=null, blogStatusId=34, commentsClosedFlag=false, categoryIdForLog=0, blogModuleCategoryId=0, blogFileVo=null, latestCommentsList=null, verticalCatSeoURL=null, currentDate=05/28/2022, blogLink=null, authorName=SheSpeaksTeam, authorLognId=SheSpeaksTeam, authorAcctId=67580, vosTypeid=3, searchTestId=0, searchStatusId=0, searchAuthorType=0, authorBlogNumber=0, surveyData1=null, surveyData1Desc=null, surveyData2=null, surveyData2Desc=null, pullQuoteMemberId=null, filePath=null, fileName=null, vosType=0, subhead=null, offerSubhead=null, description=null, creationTime=null, authorFname=SheSpeaks, verticalCategoryId=null, sectionId=0, imageFileVO=FilesVO [fileId=41234, filePath=null, fileName=null, fileLength=0, fileWidth=0, createdBy=0, createByUser=null, creationTime=null, lastModifiedBy=0, lastModifiedByUser=null, lastModifiedTime=null, mimeType=null, fileRef=null, fileSize=0, extension=null, title=null, body=null, completeFilePath=/pages/img/redesign/blogs/hot dog board header_08032021160846.jpg, height=385, width=685, maxHeight=480, maxWidth=360, displayWidth=360, displayHeight=202, fileStatusId=0, searchKeyword=null, searchFlag=false, queryId=0, isExists=true], seoURL=Creative-Summer-Food-Boards, seoTitle=null, pullQuotesList=null, pullQuote=null, pullQuoteId=0, searchFlag=false, authorByLine=SheSpeaksTeam, authorDesc=Powered by women who love to share what's HOT in reviews, deals & recipes., authorLink=null, authorFileVO=FilesVO [fileId=42371, filePath=null, fileName=null, fileLength=0, fileWidth=0, createdBy=0, createByUser=null, creationTime=null, lastModifiedBy=0, lastModifiedByUser=null, lastModifiedTime=null, mimeType=null, fileRef=null, fileSize=0, extension=null, title=null, body=null, completeFilePath=/pages/img/membersnaps/SheSpeaks_Logo_Symbol_Only_10182021080530.jpg, height=1777, width=1777, maxHeight=50, maxWidth=50, displayWidth=50, displayHeight=50, fileStatusId=0, searchKeyword=null, searchFlag=false, queryId=0, isExists=true], authorFileId=42371, authorType=0, storyImgFileVO=null, storyImgFileId=0, videoHtml=, authorImageFileId=0, authorImageFileVO=null, previousCategoryId=null, previousBlogStatusId=0, fromBlogDetails=0, blogCategoryName=Food, blogCategoryUrl=null, blogCategoryDesc=null, defaultImage=false, tags=null, optionIds=null, tagOptionId=null, tagId=null, tag=null, tagID=0, tagDetails=null, tagIds=null, testId=0, extBlogURL=null, extBlogStatus=0, bloggerSince=null, extBlogLimit=0, authorTestsList=[], blogURL=, blogName=, bloggerProfileId=0, sliderBlog=false, eventonHome=false, vosonHome=false, partyAndGiveawayDate=08/16/2021, imageCredit=null, pullQuoteMemId=null, offerSubHead=null, subHead=null, displayOrder=0,includeInGoogleSearch=false]
Aug 03, 2021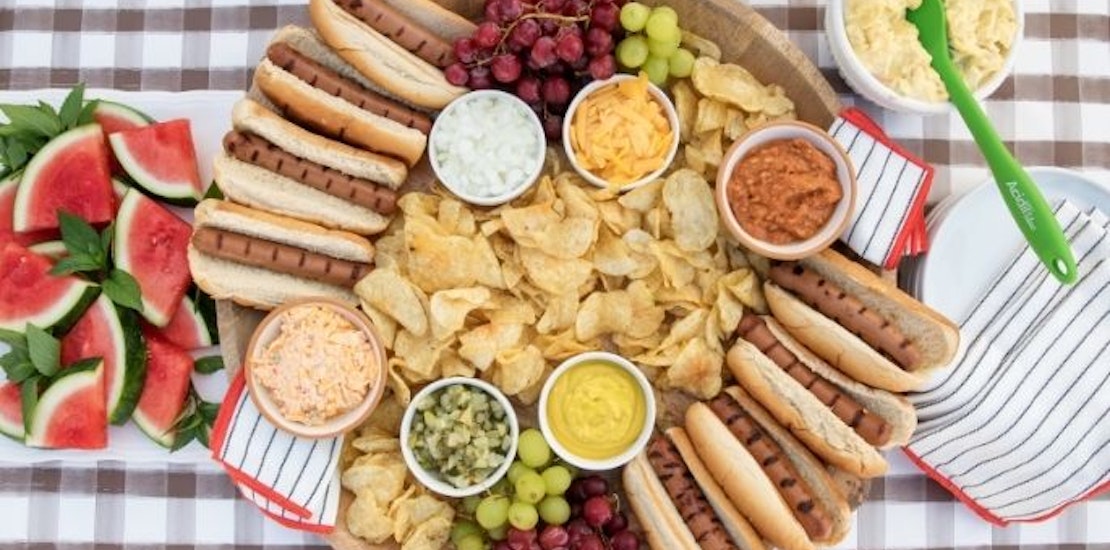 Charcuterie and grazing boards are one of the hottest trends in summer entertaining. They are an easy and fun way to feed a crowd and wow your guests at the same time. Below, we've got a few creative ways you can put together a board & serve up your favorite foods!
Read on to see how you can enter to win a Magnolia oversized wood tray, Boiron Acidil® and a $25 Grocery Gift Card to help you plan your favorite board.

Hot Dogs Board
Hot dogs can be so much fun with a variety of toppings to choose from. Let your guests get creative and pick their own toppings! Watch the video below for inspiration on how to plan the board.

Tip:
You nor your guests will need to worry about discomfort after eating - having
Boiron Acidil®
on hand is a must for when you're enjoying your favorite summer foods!
Baked Potato Board
This board idea will have everyone talking and the possibilities are endless. Load up this board with favorite toppings like sour cream, cheese, bacon, chili, guac or anything you can think of! [Photo: Reluctant Entertainer]
S'mores Board
It wouldn't be summer without s'mores! Your family and friends will love coming up with their own sweet creations with this board idea as you gather around the fire pit! [Photo: Number 2 Pencil]

What idea do you have for an entertaining board? You have the chance to win a Magnolia oversized wood tray ($39 value), perfect for any food board you could imagine, Boiron Acidil and a $25 Grocery Gift Card to purchase ingredients. Enter in the widget below.
Boiron Acidil® Giveaway
Boiron Acidil® Giveaway
One lucky participant will be chosen at random to win a Magnolia Oversized Wooden Tray ($39 value), Boiron Acidil (approx. $10 value) and a $25 Grocery Store (retailer choice). This giveaway is open through August 14 to U.S. residents at least 18 years of age. Entrants must be a member of SheSpeaks. If you are not a member, click here to join. Winner will be notified by email.

Update: Thanks to all who entered. Congrats to our winner, SheSpeaks member jesilodge!